2023 SUNY New Paltz Undergraduate Art History Symposium
On April 16, 2023, Junior Emma Flaherty participated in the SUNY New Paltz Undergraduate Art History Symposium. This multi-day virtual event features the work of a hundred talented undergraduate students from institutions across the globe. Emma presented her paper from Professor Aksamija's class ARHA 325, Eloquent Forms: Italian Renaissance and Baroque Sculpture. She has kindly shared some details below.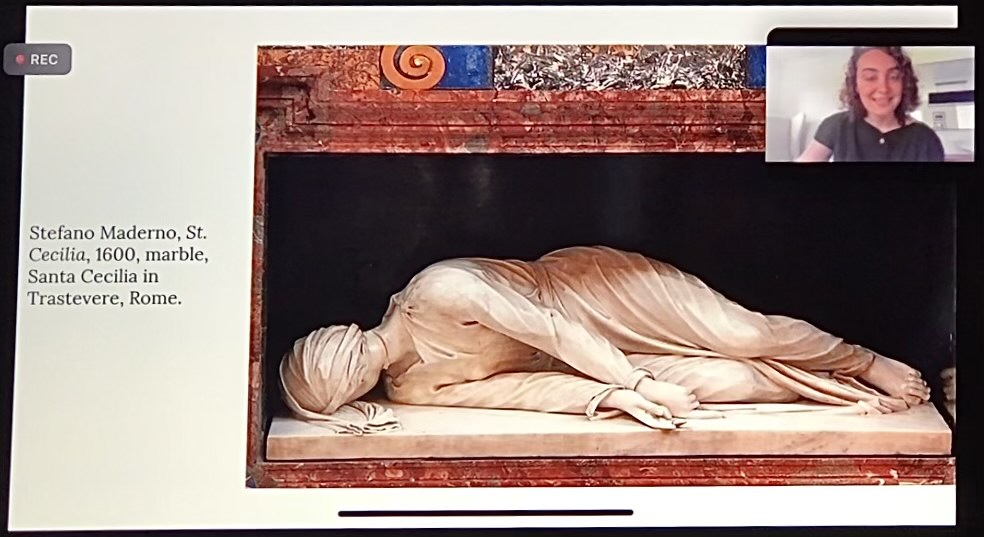 Flesh Petrified: Christian Archaeology and the Sculpted Corpse of Saint Cecilia by Stefano Maderno
This paper examines how the sculpted corpse of Saint Cecilia (1600), as rendered by Stefano Maderno (1570-1636) in the basilica of Santa Cecilia in Trastevere, Rome, seeks to transcend the bounds of Christian time and space. Commissioned by Cardinal Paolo Emilio Sfrondrato (1561-1618) during his preparatory renovations of his titular church of Santa Cecilia for the Holy Year of 1600, the formulation of the sculpture acts as an archaeological record. It is a record not only in its accuracy to the actual corpse of Cecilia that was discovered during the late 16th century excavations, but also the continuum of Christian history that spanned backwards from the transfer of Cecilia's corpse to the basilica in the ninth century, and all the way back to her martyrdom there in the third century CE. It is my assertion that the entrusting of the "replica" that is Saint Cecilia to Maderno, who up until its commission had largely worked on restoring and replicating antique works, reinforces the power of Christian archaeology in the years of the newly reformed Catholic Church. Approaching the life of the sculpture from a holistic vantage point, this paper answers questions ranging from the fields of religious history, literature, and tradition, to ideas about materiality and its intersections with artistry, antiquity, and gender.
Click here for more information about the SUNY New Paltz Undergraduate Art History Symposium